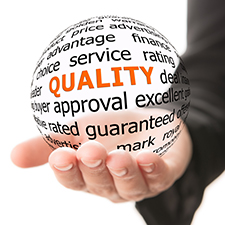 It is our vision to deliver products and services of outstanding quality to our customers around the world.
Our quality management system is a fixed element of all our action-taking processes.
Our value-added processes are continuously improved.
Within the scope of our quality management system, we constantly seek possibilities to further develop our company.
BIOREBA AG has been ISO certified for many years. Our quality management system, in complience with
ISO 9001:2015
, applies not only to production, reserach and development stages but also to the worldwide distribution of our products as well as testing service for customers.
In addition, we pass on our own experience gained in our
ISO/IEC 17025
accredited testing laboratory to our customers and support them in process validation or other quality-related questions.
BIOREBA is an official testing laboratory for phyto-diagnostics. As such, we take part in numerous test performance studies (TPS).
Our products are the result of our quality-conscious trade from production to delivery.
Our customers rely on the lot-to-lot consistency of our diagnostic test compounds.
On request, we provide our customers with a range of quality-relevant documentation.