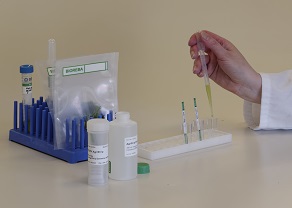 About AgriStrip
The rapid one-step assay AgriStrip, developed and manufactured by BIOREBA, is based on lateral flow immunochromatography.
AgriStrip test has been developed to confirm the presence of a plant pathogen in samples with suspicious symptoms
It is available in two set and one kit format.
Component
Assays
25
100
AgriStrips
25 pcs.
100 pcs.

AgriStrip Extraction buffer

ready-to-use

100 ml
500 ml
AgriStrip Complete Kit
Component
Assays
25
AgriStrips
25 pcs.

AgriStrip Extraction buffer

ready-to-use

100 ml
Disposable pipettes
25 pcs.
Extraction bags
25 pcs.
Disposable cuvettes
25 pcs.

Cuvette rack,

holds 12 cuvettes

1 pcs.
Optional Product
The homogenizer hand model is optional and not included in the "AgriStrip Complete Kit".
Application
The performance of the test is very easy and there is no need for special laboratory equipment. Therefore, the AgriStrip is especially suitable when on-site testing is required, such as in greenhouses or fields.
Test Procedure and Results
A sample with suspicious symptoms is homogenized and a few drops of the homogenate are transferred to a cuvette.
The strip is dipped into the extract and the result can be read within a few minutes.
A positive result is seen as a colored band at the test line, whereas the colored band at the control line should always appear.
Test strips can be kept as permanent records.