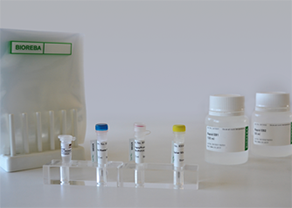 About our validated qPCR sets & kits
Fast and reliable protocol

Test security due to lot-to-lot consistency

Cost effective

Time saving
We offer qPCR products that are validated for fast and reliable protocols. Using ready-to-use qPCR tests from BIOREBA, our customers save days of labour versus an own, laboratory made solution.
Our qPCR products are delivered with lot specific data sheets. We are committed to lot-to-lot consistency for increased test security.
Our qPCR sets include Taq Master Mix, RT Master Mix (for RNA virus), Nuclease free Water, Primers-, Probes- and Internal Control Mix.
Our qPCR kits include additionally to our qPCR sets also our rapid DNA/RNA extraction set.
qPCR potato virus set & qPCR ToBRFV set
| | | |
| --- | --- | --- |
| Component | Assays | |
| | 96 | 192 |
| Taq Master Mix | 1.2 ml | 2 x 1.2 ml |
| RT Master Mix | 50 ul | 2 x 50 ul |
| Primers/Probes/IC Mix | 200 ul | 2 x 200 ul |
| Nuclease free water | 1 ml | 2 x 1 ml |
qPCR grapevine virus set
| | | |
| --- | --- | --- |
| Component | Assays | |
| | 96 | 192 |
| Taq Probe Master Mix | 1.2 ml | 2 x 1.2 ml |
| Primers/Probes/IC Mix | 200 ul | 2 x 200 ul |
| Nuclease free water | 1 ml | 2 x 1 ml |
qPCR potato virus kit
Component
Assays
96
192
Taq Master Mix
1.2 ml
2 x 1.2 ml
RT Master Mix
50 ul
2 x 50 ul
Primers/Probes/IC Mix
200 ul
2 x 200 ul
Nuclease free water
1 ml
2 x 1 ml

Potato DNA/RNA rapid

extraction set*

up to 10 tuber

samples

up to 25 tuber

samples
| | | | | |
| --- | --- | --- | --- | --- |
| Component | Assays | | | |
| | 96 | | 192 | |
| Pool size: up to 10 tuber samples: | | | | |
| Rapid extraction buffer EB 1 | 100 ml | | 200 ml | |
| Rapid extraction buffer EB 2 | 50 ml | | 100 ml | |
| Extraction bags Standard 12x15 cm | 100 pcs. | | 2 x 100 pcs. | |
| | | | | |
| --- | --- | --- | --- | --- |
| Pool size: up to 25 tuber samples: | | | | |
| Rapid extraction buffer EB 1 | 200 ml | | 2 x 200 ml | |
| Rapid extraction buffer EB 2 | 50 ml | | 100 ml | |
| Extraction bags Standard 12x15 cm | 100 pcs. | | 2 x 100 pcs. | |