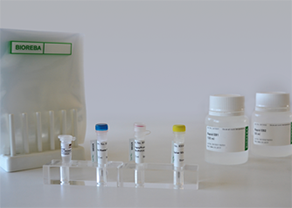 For potato pathogen diagnostic we offer ready-to-use PCR testing solutions.
Our PCR macroarray potato virus kit is an excellent test for multiplex detection of potato virues PVA, PVM, PVS, PVX, PVY (O- and N-type), PLRV, PMTV and PSTVd.
Our qPCR sets and kits enable the simultaneous detection of potato viruses PVY (all strains) and PLRV.
PCR macroarray potato virus kit and qPCR PLRV/PVY set/kit are validated for fast and reliable protocols and delivered with Lot specific data sheets.
We are committed to lot-to-lot consistency for the increased test security.
qPCR potato virus set
| | | |
| --- | --- | --- |
| Component | Assays | |
| | 96 | 192 |
| Taq Master Mix | 1.2 ml | 2 x 1.2 ml |
| RT Master Mix | 50 ul | 2 x 50 ul |
| Primers/Probes/IC Mix | 200 ul | 2 x 200 ul |
| Nuclease free water | 1 ml | 2 x 1 ml |
qPCR grapevine virus set
| | | |
| --- | --- | --- |
| Component | Assays | |
| | 96 | 192 |
| Taq Probe Master Mix | 1.2 ml | 2 x 1.2 ml |
| Primers/Probes/IC Mix | 200 ul | 2 x 200 ul |
| Nuclease free water | 1 ml | 2 x 1 ml |
qPCR potato virus kit
Component
Assays
96
192
Taq Master Mix
1.2 ml
2 x 1.2 ml
RT Master Mix
50 ul
2 x 50 ul
Primers/Probes/IC Mix
200 ul
2 x 200 ul
Nuclease free water
1 ml
2 x 1 ml

Potato DNA/RNA rapid

extraction set*

up to 10 tuber

samples

up to 25 tuber

samples
*Potato DNA / RNA rapid extraction set
| | | | | |
| --- | --- | --- | --- | --- |
| Component | Assays | | | |
| | 96 | | 192 | |
| Pool size: up to 10 tuber samples: | | | | |
| Rapid extraction buffer EB 1 | 100 ml | | 200 ml | |
| Rapid extraction buffer EB 2 | 50 ml | | 100 ml | |
| Extraction bags Standard 12x15 cm | 100 pcs. | | 2 x 100 pcs. | |
| | | | | |
| --- | --- | --- | --- | --- |
| Pool size: up to 25 tuber samples: | | | | |
| Rapid extraction buffer EB 1 | 200 ml | | 2 x 200 ml | |
| Rapid extraction buffer EB 2 | 50 ml | | 100 ml | |
| Extraction bags Standard 12x15 cm | 100 pcs. | | 2 x 100 pcs. | |
PCR macroarray potato virus kit
Component
Assays
96
192
Mix for PCR macroarray
1.2 ml
2 x 1.2 ml
RT for PCR macroarray
14 ul
28 ul
Taq for PCR macroarray
40 ul
2 x 40 ul
Strep-AP for PCR macroarray
12.5 ul
25 ul
HA buffer for PCR macroarray
12 ml
24 ml
B buffer for PCR macroarray
12 ml
25 ml
NBT/BCIP for PCR macroarray
100 ul
200 ul
C buffer for PCR macroarray
80 ml
80 ml
Wash buffer for PCR macroarray
200 ml
200 ml
Strips for PCR macroarray
12 pcs
2 x 12 pcs
Adhesive film for PCR macroarray
2 pcs
4 pcs

Potato DNA/RNA rapid

extraction set*

1 set
1 set
*Potato DNA / RNA rapid extraction set
| | | | | |
| --- | --- | --- | --- | --- |
| Component | Assays | | | |
| | 96 | | 192 | |
| Pool size: up to 10 tuber samples: | | | | |
| Rapid extraction buffer EB 1 | 100 ml | | 200 ml | |
| Rapid extraction buffer EB 2 | 50 ml | | 100 ml | |
| Extraction bags Standard 12x15 cm | 100 pcs. | | 2 x 100 pcs. | |
| | | | | |
| --- | --- | --- | --- | --- |
| Pool size: up to 25 tuber samples: | | | | |
| Rapid extraction buffer EB 1 | 200 ml | | 2 x 200 ml | |
| Rapid extraction buffer EB 2 | 50 ml | | 100 ml | |
| Extraction bags Standard 12x15 cm | 100 pcs. | | 2 x 100 pcs. | |
Datensätze 1-9 von 18
1
2