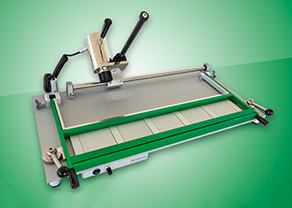 About BIOREBA homogenizing system
BIOREBA`s unique Homogenizing system is optimized for the grinding of plant samples. We offer a semi-automated machine, HOMEX 7, for high throughput applications as well as a HOMOGENIZER hand model for efficient grinding of small number of samples. Our recently introduced HOMEX XS is an automatic homogenizer for throughput of up to 100 samples per hour. Our well-proven disposable extraction bags are suitable for use with our HOMEX product line.
HOMEX 7
The semi-automated HOMEX 7 is ideal for tissue extraction for samples to be used in ELISA and PCR. Samples are contained within our extraction bags throughout the sample processing, thereby eliminating cross-contamination and the need of washing between samples. Tissue samples of different thickness weighing up to several grams may be homogenized. About 250 samples per hour can be processed.
Our HOMEX 7 can be equipped with two different racks to hold different sizes of extraction bags (see Product Information Extraction bags).
Standard rack (Art. No. 400014S)
Our HOMEX 7 is equipped with this standard rack. It holds 1- 5 extraction bags with a width of 12 cm and a length of 12-15 cm. Changing racks is just a matter of a few seconds.
Rack 4/25 (Art. No. 4000164)
This rack holds 1-4 bags with a width of 15 cm and a length of 28 cm. The extraction bag is perfectly fixed when closing the rack. Herewith you avoid any leaking during the homogenization phase. Extraction bags 15 x 28 cm of a very strong quality with 15 mm sealing borders are available with a synthetic intermediate layer.
HOMEX XS
The HOMEX XS (
HOMEX-XS_Product Flyer)
is an automated easy-to-use system for the homogenization of all kinds of tissues without sharp edges.
With the HOMEX XS the sample is homogenized and the filtered extract can then be used for analyses such as ELISA, PCR or other analytical applications.
It is an efficient, space saving machine with many advantages:
• High efficiency with homogenization of more than 100 samples per hour
• Optimized for BIOREBA extraction bags
• Adjustable rotation speed
• Adjustable homogenization time
• Stop timer function
• Ergonomic handling
Homogenizer Hand Model
The hand model is suitable for small sample numbers and for samples of softer tissue such as leaves, sprouts, flowers etc. The hand model can be used with all our extraction bags. For optimal grinding it is recommended to work on a hard surface.